Our selection of shops in Barcelona which is one of the main centres for shopping in Spain.
See also or Barcelona shopping guide sorted by categories: women shops, men shops, departments stores, gourmet stores, markets...
Opening times: most of the shops and shopping centers are open from 10.00 (10am) to 20.30 (8:30pm) or 21.30 hours (9:30pm). Traditional shops open from 10.00 (10am) to 14.00 hours (2pm) and from 16.30(4:30pm) to 20.30 hours (8:30pm).
Most shops are open Monday to Saturday.
Many shops close on Saturday afternoons and in July and August.
Help us by adding comments and ratings on every shop's review on this directory.
We Recommend >> Must-sees in Barcelona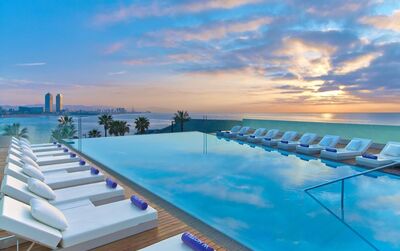 The ideal hotel for your stay
Whether you are looking for a family or a business stay or just for a weekend, we have selected for you the best hotels in the city to choose from. All categories at all prices. But also the bargains according to your travel dates. Have a good stay!
Best City Tour: One single ticket, 3 routes and 45 stops!
Discover city sightseeing at your own pace with our selection of Hop-On Hop-Off bus tour tickets. An extraordinary and economic way to make the first connection with main tourist attractions.
Unlimited access to public transport
Enjoy unlimited access from 48 to 120 hours to Barcelona's public transport: Metro, bus (TMB), urban railway (FGC, Zone 1), Montjuïc funicular, tram (TRAM), regional railway (Rodalies de Cataluny) + 1 round trip from the airport to the city center. Only excluding NitBus, Aerobus & hop-on hop-off.
Your comment has been recorded and will be published after moderation.
Close